Career Day at Samuel Hubbard Elementary School

May 11, 2011

    On Wednesday, May 11, I visited the students at Samuel Hubbard Elementary School to speak with them about how I became an author.  All of the kids were so amazing, nice, and fun!  I really enjoyed speaking with them!  They are great kids!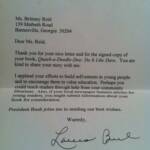 LETTER FROM FIRST LADY LAURA BUSH

(click thumbnail below to enlarge)

    I received this letter from First Lady Laura Bush on June 27, 2011!  This was a very surprising and exciting gift to receive in the mail once I got home!!  I'm thrilled to have received such strong encouragement from the very inspirational First Lady of the United States of America!!!